Steven Seagal to Co-write THE RETURNED Sequel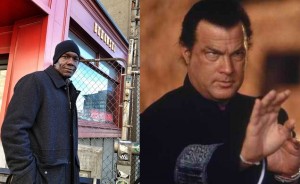 Actor and martial arts master Steven Seagal has been tapped to co-write a much-anticpated sequel to The Returned.  Titled The Returned 2: Marked for Justice in Dark Territory, the novel will serve as an alternate narrative in tandem with that contained within The Returned.
When asked how this project came about, Mr. Seagal said:  "Well, you know, I got an early copy of the book from Jason and loved it.  It was full of heart, you know?  But, as much as I liked it, I couldn't help but thinking to myself 'You know, so much of the physical and emotional conflict the characters face in this novel could be solved by a hip toss or front kick, or maybe even an open-handed chop to the temple.'  I said to myself 'This book needs more Aikido.'"
In addition to co-writing, Mr. Seagal will star in the novel as well, playing an ex-CIA/NSA/FBI/DOD intelligence operative named simply "Steve."  When asked how he and Mr. Mott would split the writing duties on The Returned 2: Marked for Justice in Dark Territory, Mr. Seagal had this to say:  "Well, you know, Jason will do most of the writing.  But I'll do all of the Aikido.  I mean, I could write it, you know, I'm very multi-talented.  I'm an actor, a director, a martial artist, a singer, and I'm only two weeks away from becoming a licensed midwife.  But, you know, I don't really need to brag."
Date of publication for the project has yet to be announced, but all guesses point to the next April Fool's Day.