Actor KO's Author Twice, Hopes for Third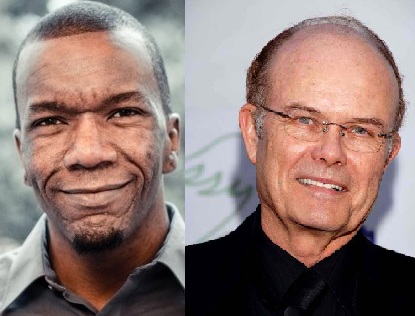 The Associated Press has just learned of a bizarre (and still ongoing) feud between author of THE RETURNED, Jason Mott, and RESURRECTION star Kurtwood Smith. According to reports, the conflict began roughly one year ago when Mr. Mott traveled to Atlanta to watch filming of the pilot for RESURRECTION. On his last night in Atlanta, while having dinner with the cast members, an argument started between the actor and the author which ended with the 35 year-old author being knocked unconscious by the 70 year-old actor.
When asked about the impetus for the incident, Kurtwood stated: "Well, first of all, let's not overlook just how punchable of a face Jason has. As soon as I met him, from our very first handshake, I just kept thinking to myself 'Man! His face is just begging to be punched!' I mean look at him. If that guy's face showed up on your phone, you'd punch the hell out of your phone!"
After getting past the "punchability" of Mr. Mott's face, the actor stated that the conflict began at the end of dinner when the check arrived. There was some contention over a salad that was ordered and not eaten, and somehow things deteriorated into heated yelling. At which point Mr. Smith stood and, with a single punch, knocked Mr. Mott unconscious.
This incident alone would have been bad enough, only it did not end there. Kurtwood continues the story:
"I couldn't believe how he went down off of one punch. I mean, I hadn't KO'd a man in years. But there he was, stretched out like a rug right there on the floor of the restaurant. Can you believe that? So, fast forward a few months and Jason's out here in LA for something or other and wants to get everyone together for dinner again. He and I hadn't talked since Atlanta and I figure he wants payback. So, naturally, I show up ready for him. Hell, more than that, I show up looking forward to it. I told my wife before dinner: 'I'm going to knock him out again! Give him a good, two-piece jab & hook combo this time instead of the one-hitter like last time. I really want to enjoy myself, you know?'"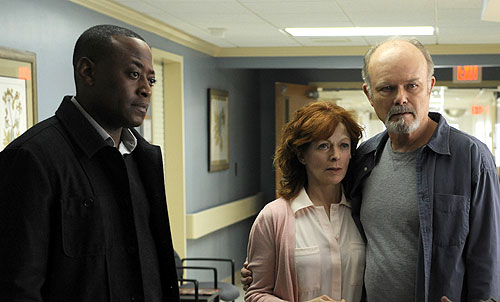 And, according to reports from other RESURRECTION cast members, that's exactly what happened this past February when Mr. Mott visited Los Angeles. Actor Omar Epps picks up the story:
"Kurtwood took him down clean," said Epps. "It was right at the start of dinner. The waiter didn't even get to ask what we wanted to drink. Kurtwood asked Jason to stand up for a second. Meanwhile, the rest of us knew what was coming. It's all Kurtwood's talked about for months. What happened next was better than any YouTube video you've ever seen. Kurtwood hit Jason with a stiff jab–square in the center of that incredibly punchable face Jason's got. Then he came around with a beautiful right hook. He really stepped into it! Mayweather couldn't have done it better. Personally, I still don't understand how Jason didn't see it coming. Or maybe he did and he's just got the reflexes of a coma patient. Either way, down he went. Next thing we know half the restaurant is standing up shouting 'Down goes Frasier! Down goes Frasier!' It was awesome."
Actress Frances Fisher went on to talk about just how much the cast had been looking forward to the rematch: "We talked about it all last summer during filming," the actress said. "When Jason got knocked out the first time, we all took pictures with our phones. We had to. But we'd missed the actual knockout. We just got photos of him asleep on the floor with his face in a half-eaten dinner roll someone had dropped. But even more than that, Jason's got an incredibly punchable face! We all kinda want to hit it. Maybe next time I see him, I'll take my swing. He seems to go down pretty easy. The whole cast–and I think one or two of the actual crew members–has plans of trying to knock him out at some point. I think the crew from lighting has a pool going. It's like our own, private game of Whack-a-Mole."
When asked for a final comment on the matter, Kurtwood stated: "I want to say that it's over, but I also don't want it to stop. I've been eating better, hitting the gym again. Knocking that guy out really had a positive impact on my life. My wife told me that, if I can do it a third time, we're getting a new TV. And…well, you can never have too many TVs."
Mr. Mott could not be reached for comment. We hope to hear from him before the next April Fools' Day.